Welcome to the MPRInstitute.org Online Library
Your resource center for Institute Publications, Literature, and Multimedia
Literature | Bibliographies | Bulletin Board | Image Galleries | Link Gallery
Literature
Publications of the Institute


Notulae MPRI 1001 -- Table of ray identification schemes for nonluidiid Asteroidea





Contribution No. 10 -- in manuscript 10/2/2020: Ophiuroids of modern aspect and small size from the Lower Carboniferous of Nova Scotia, Canada. authors F.H.C. Hotchkiss and P.H. von Bitter.


Contribution No. 9 -- Origin and significance of Lovén's Law in echinoderms. authors C.R.C. Paul, University of Bristol, and F.H.C. Hotchkiss. …submitted September 2019 to Journal of Paleontology.


Contribution No. 8 -- Fossil echinoderm collections at the Yale Peabody Museum. authors Susan H. Butts, Yale Peabody Museum, and Fred H. C. Hotchkiss. Poster and abstract,, 10th European Conference on Echinoderms, 16-19 September 2019. Borissiak Paleontological Institute RAS.



Contribution No. 7 -- Fossil Wood from Martha"s Vineyard, Massachusetts. authors Jim Mills, MillsGeological.com, and Fred Hotchkiss, MPRInstitute.org. 2019. Rocks & Minerals 94:366-369.



Contribution No. 6 -- Growth zones and extraxial-axial skeletal homologies in Asteroidea. Hotchkiss, F.H.C. 2012. Proceedings of the Biological Society of Washington 125(2):106-121.



Contribution No. 5 -- An arm-stump specimen of Archaster angulatus Muller & Troschel, 1842 (Echinodermata: Asteroidea) [abstract]. Hotchkiss, F.H.C. and J.K. Keesing. 2012. Gulf of Mexico Science 29(2):144-145



Contribution No. 4 -- Observations on Onychaster (Ophiuroidea: Onychasteridae) (Famennian - Visean Age). Hotchkiss, F.H.C. and A. Glass. 2012. Zoosymposia 7:121-138.



Contribution No. 3 -- Arm stumps and regeneration models in Asteroidea (Echinodermata). Hotchkiss, F.H.C. 2009. Proceedings of the Biological Society of Washington 122(3):342-354.



Contribution No. 2 -- Bdellacoma in the Hunsrück Slate (Lower Devonian, Germany): Reidentification of Urasterella verruculosa (Asteroidea, Bdellacomidae). Hotchkiss, F.H.C., and A. Glass. 2010. Pp. 15-21 in Echinoderms: Durham, Proceedings of the 12th International Echinoderm Conference, Durham, New Hampshire, USA, 7-11 August 2006, L.G. Harris, S.A. Böttger, C.W. Walker & M.P. Lesser (eds.), CRC Press/Balkema,Leiden, 679 pp.



Contribution No. 1 -- Isolated ossicles of the Family Eospondylidae Spencer et Wright, 1966, in the Lower Devonian of Bohemia (Czech Republic) and correction of the systematic position of eospondylid brittlestars (Echinodermata: Ophiuroidea: Oegophiurida). Hotchkiss, F.H.C., Rudolf J. Prokop and Václav Petr. 2007. Acta Musei Nationalis Pragae, series B Historia Naturalis 63(1):3-18.



Recent sightings
What is a factor to determine the arm number of starfish Asterina pectinifera? 2015, by Y. Ohno and M. Mita. Bull. Tokyo Gakugei Uiv. Div. Nat. Sci. 67:25-31. [In Japanese]

Regional differences of ray number variation in a starfish, Patiria pectinifera, 2014, by Osamu Kawase and Ryohei Furukawa. Link to document

Arm swapping autograft shows functional equivalency of five arms in sea stars, 2019 preprint, by Daiki Wakita, Hitoshi Aonuma, and Shin Tochinai. Link to bioRxiv document

Asterozoans from the Ludlow Series (Upper Silurian) of Leintwardine, Herefordshire, UK, by David J. Gladwell. Papers in Palaeontology, 2018: pp. 1-60.

Phylogenomic resolution of the Class Ophiuroidea unlocks a global microfossil record, by T. D. O'Hara, A. F. Hugall, B. Thuy, and A. Moussalli. 2014. Current Biology 24, 1874–1879.

Evolutionary and ecological significance of Lepidaster grayi, the earliest multiradiate starfish, by Liam G. Herringshaw, M. Paul Smith and Alan T. Thomas. 2007. Zoological Journal of the Linnean Society 150:743-754. Link to abstract

Pyritized tube feet in a protasterid ophiuroid from the Upper Ordovician of Kentucky, U.S.A., by Alexander Glass. 2006. Acta Palaeontologica Polonica 51(1):171-184. Link to PDF

Click here for an electronic version of the Challenger Expedition reports. It is an amazing resource, with text and all the plates as well. Brought to our attention June 2006 thanks to Dr. Philip Lambert, Curator of Invertebrates, Royal British Columbia Museum.

Early Triassic ophiuroids: their paleoecology, taphonomy, and distribution, by R. J.Twitchett, J. M. Feinberg, D. D. O'Connor, W. J. Alvarez and L. B. McCollum. 2005. PALAIOS 20:213-223. Link to PDF

A starfish with three-dimensionally preserved soft parts from the Silurian of England, by M. D. Sutton, D. E. G. Briggs, David J. Siveter, Derek J. Siveter and D. J. Gladwell. 2005. Proc. R. Soc. B. 272:1001-1006. An important paper on the Silurian stelleroid Bdellacoma Link to PDF



Bibliographies
Bibliography of Paleozoic Asterozoa
This bibliography is compiled by F. H. C. Hotchkiss as a continuing project. It was started in 1971. Over the years Vaclav Petr has been especially helpful in contributing to the compilation. The bibliography is added to and edited as time permits throughout each year. The bibliography is annotated at the whim of, and for the benefit of the compiler. The compiler disclaims any standard of completeness or consistency for these annotations. There is a working copy MS word file for each letter of the alphabet. Approximately once per year the latest version of the files is converted to pdf files that are put onto the MPRI website to share with scientists, students and the interested public. We hope that it will be of use to you.

Click on the letters A to Z to access the bibliography.

A | B | C | D | E | F | G | H | I | J | K | L | M | N | O | P | Q | R | S | T | U | V | W | X | Y | Z

Last updated: May 2016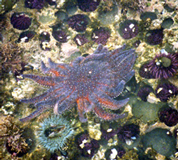 Due to the COVID-19 pandemic, MPRI was not able to hold any events in 2020 but below is a summary of our past events.
2019 EVENTS:
In October, our annual National Fossil Day took place at the Oak Bluffs Public Library. See pictures from this event on the Oak Bluffs Library's Facebook page
here
.
In May, we took fossil programs for seniors to Windemere Nursing and Rehabilitation Center and in June to The Anchors Senior Center in Edgartown in collaboration with the Martha's Vineyard Center for Living and in collaboration with the MV Museum.
In April, Susie Bowman
and Fred Hotchkiss presented
Horseshoe Crabs: A Story of Beach Trysts and Blue Bloods,
a free lecture and slide show about lives and history of horseshoe crabs and opportunities to be involved in the Horseshoe Crab Citizen Science Survey Project -- at the West Tisbury, Edgartown and Oak Bluffs libraries
In March, we visited two 8th grade science classes of Mrs. Connie Alexander in Tisbury, bringing a range of fossils for study and discussion.
In March, we brought touchable fossils to preschoolers at the Island Children's School in West Tisbury.
In February, we visited the 7th grade science classes of Ms. Lea Dorr in Oak Bluffs as they studied geology and the history of beach pebbles found on the Vineyard.

Fossil
Heritage
Collection
Specimens purchased
with the help of our generous
donors
.